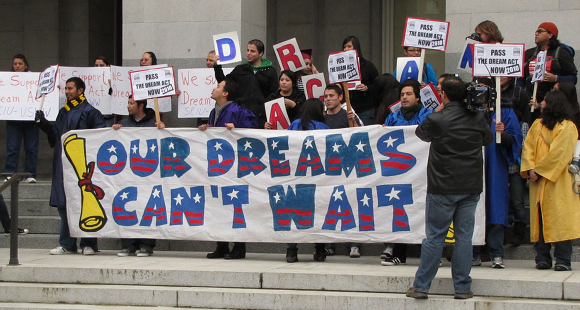 The Fontana Democratic Club condemns President Trump's repeal of Deferred Action for Childhood Arrivals (DACA). This decision impacts local families in the City of Fontana largely, in which, per the Census Bureau estimates, there are 16% of Fontana residents that are undocumented. There is no current policy that protects children or their parents from fear of deportation from local law enforcement agencies.
At this time, it is reported there are 800,000 DACA beneficiaries nationwide and 91% are employed. The Center for American Progress has estimated the loss of DACA workers would reduce U.S. GDP by $433 billion over the next 10 years. California would be the most severely impacted, in which the loss of 188,000 DACA workers would cause the state to suffer a GDP loss of $11.3 billion a year. Many of these "DREAMers" have lived their entire life in the United States since they were small children and have played a role in making our communities stronger.
We are calling on local, state, and federal elected officials to oppose this action by President Trump.
Our club stands with the immigrant community and will use our resources as well as influence to urge our state and federal representatives to work to protect DACA beneficiaries.
###