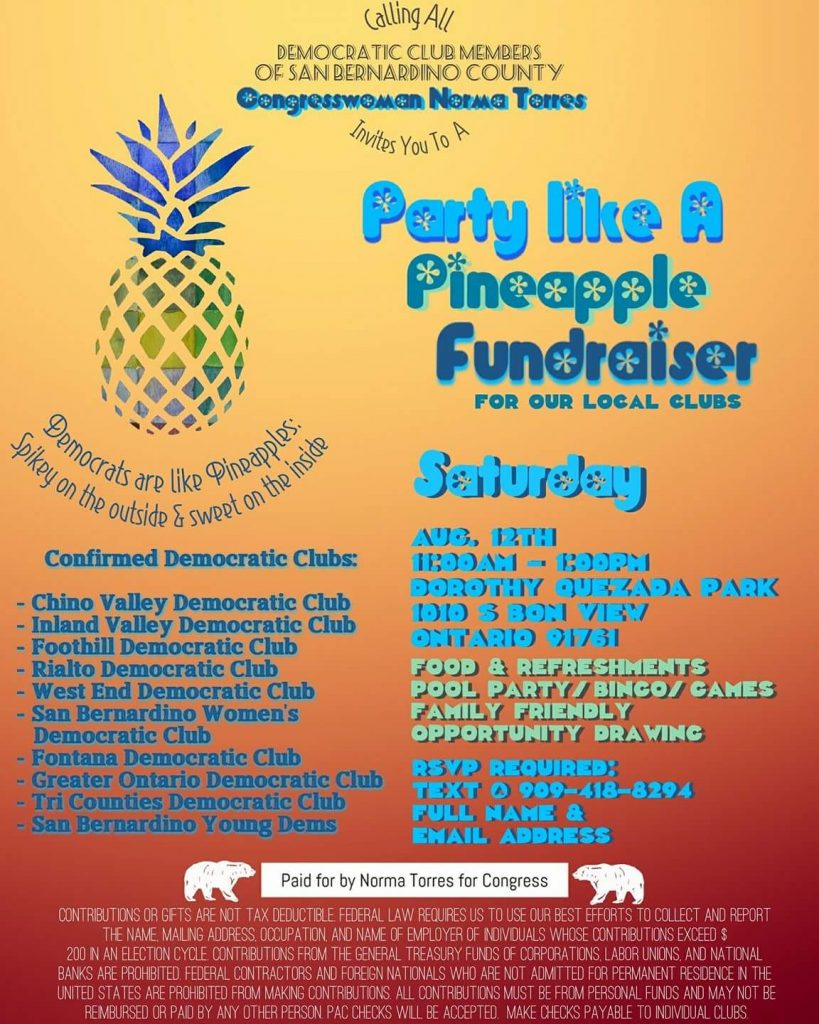 Congresswoman Norma Torres invites you to her "Party Like A Pineapple" Fundraiser For Our Local Clubs!
The fundraiser is taking place this Saturday, August 12th from 11am-1pm at Dorothy Quezada Park (1010 S Bon View Ave, Ontario, CA 91761).
Pool Party
Family Friendly
Games
Bingo
Drawing
Food & Refreshments
RSVP Required, please call or text 909-418-8294 with full name and e-mail address.
Confirmed Clubs
Chino Valley Democratic Club
Fontana Democratic Club
Foothill Democratic Club
Greater Ontario Democratic Club
Inland Valley Democratic Club
Rialto Democratic Club
San Bernardino Women's Democratic Club
San Bernardino County Young Dems
TRI Counties Democratic CLUB
West End Democratic Club
"This pool party fundraiser is a family affair. We'll be teaching the kids to be the activists as we help ourselves become more active in the community. This is your fundraiser for you to invite your people. All checks will be made payable to your clubs, this is your fundraiser, we're just hosting. We have elections coming up in November and I want to make sure that you have some resources and that you can begin to identify candidates that we need to defend and races that we need to win." – NT #TeamTorres