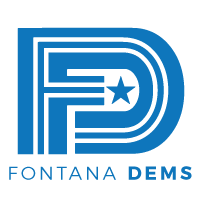 FOR IMMEDIATE RELEASE March 23, 2023
Bobbi Jo Chavarria, Vice-President
Fontana Dems Club
909.262.2880 fontanadems@gmail.com
FONTANA DEMS LAUNCH MONTHLY GUEST SPEAKER SERIES
Fontana, CA, March 23, 2023 – This Saturday, March 25th, the newly reestablished Fontana Dems Club is excited to launch a monthly guest speaker series program beginning with Democratic Majority Leader Assemblymember Eloise Gómez Reyes and 2022 Chino Hills City Council Candidate and student leader, Diego Fernandez.  Brunch is available for $15 purchased in advance or $20 at the door, and meal begins at 10am at Las Playas Restaurant on Valley Blvd.  The free program is scheduled to begin at 10:30am.
With more than 57,000 party members in the area, the monthly series is hosted by the club for registered Democrats to stay at the forefront of progressive issues, take local action, and learn about party and legislative news.
"Another big election is coming up quickly," said Bobbi Jo Chavarria, Vice-President of the Club. "From local city council races to the Presidential election, we hope to keep Fontana Democrats informed and engaged and this guest speaker series will provide that avenue with party leaders, experts, activists, and others as guests."
With 49.6% of voters in the city registered as Democrats (compared to 20.6% Republican), voter registration in Fontana gives Democrats a clear electoral advantage, but only one Democrat sits on the city council. The Fontana Dems Club leaders and members are ready to change that to address key issues like traffic, public safety, air quality, and economic opportunity.
The guest speaker series launches this Saturday, March 25 at 10am at Las Playas Restaurant, 16491 Valley Blvd. Tickets are available at bit.ly/FDCSpeakerSeries and at the door and includes breakfast. Guest speakers include Assm. Majority Leader Eloise Gómez Reyes and Mt. Sac student leader Diego Fernandez.
###
The Fontana Dems Club is newly established after a hiatus from the COVID pandemic.  In January 2023, members elected their youngest-ever President, Tariq Azim, a recent graduate of UC Davis and lifelong resident of Fontana. Mr. Azim was recognized as a 2022 30 under 30 Award Recipient by Assm. Eloise Reyes. Vice-President, Bobbi Jo Chavarria, previously served as Secretary of the Fontana Democratic Club (2011-2012) and was the Regional Field Organizer during the Bernie Sanders 2020 Presidential campaign. Tariq and Bobbi Jo were also recently elected to serve as Assembly Delegates to the California Democratic Party. The Fontana Dems General Membership Meeting and special events are open to all registered Democrats in Fontana and surrounding areas. Visit fontanadems.org for more information.
2023 Executive Board
President,Tariq Azim 
Vice-President/Treasurer: Bobbi Jo Chavarria
Secretary: Jasmine Cunningham
Ex-oficio: Mark Schulte
cc: 2023 FDC Eboard